Gallery News
This is a bittersweet announcement for the gallery. We are closing our location at 311 Potrero and consolidating into a larger gallery space at Minnesota Street Project. Our Potrero location, which we held for more than six years, showing numerous exhibitions as well as delighting visitors with our memorable Back Room, will be closing at the end of this year. Please stay tuned for what we have lined up for next year at Minnesota Street Project.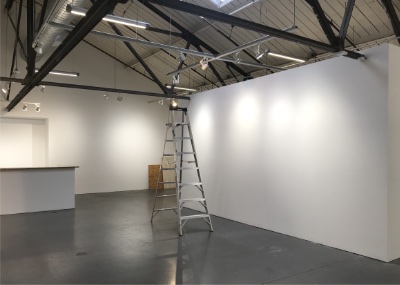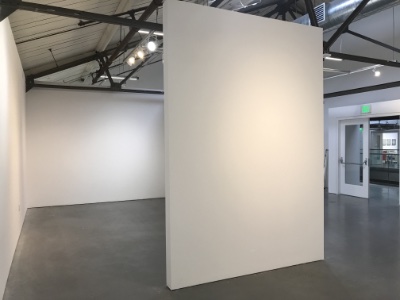 The gallery has relocated of September 2013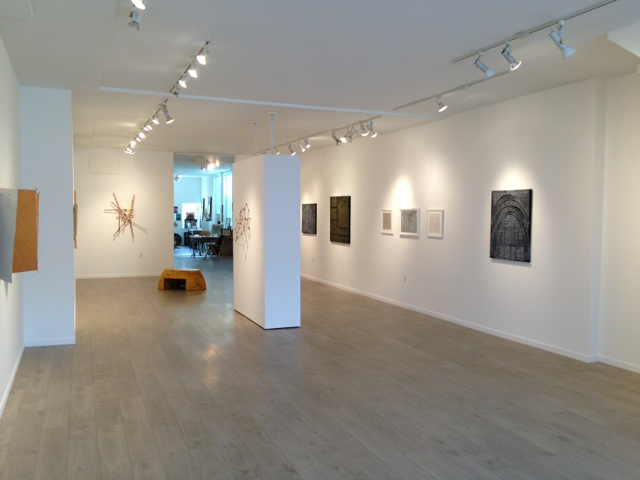 The Jack Fischer Gallery has relocated to 311 Potrero Avenue located in the new San Francisco arts district of Potrero flats.
There are now 5 galleries within a block of each other. Todd Hosfelt, Brian Gross, Catherine Clark,
and George Lawson.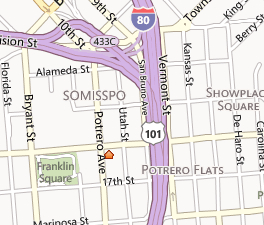 Our new address is 311 Potrero Avenue, San Francisco, CA 94103.
THE GALLERY IS CLOSING AT 49 GEARY AND WE ARE RELOCATING
Stay posted for news of our new space.
For all inquiries : jackfischer@sbcglobal.net or 415 522-1178
NEW ARTISTS AT THE JACK FISCHER GALLERY
We are proud to announce the gallery is now representing Joshua Hagler , Maja Rusnic , Kate Nartker , and Fernando Gomez Balbotin
FOR IMMEDIATE RELEASE: MAXIMALISM : UTOPIA
Drawings by Emanuela Harris-Sintamarian
MARCH 29TH – MAY 5TH, 2012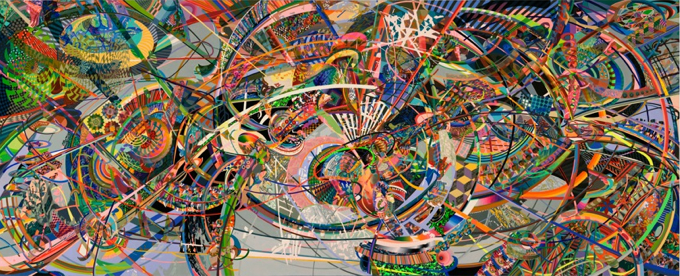 Jack Fischer Gallery is pleased to announce the opening of a solo show featuring the work of Roma- nian-born artist Ema Harris-Sintamarian. Ema's works envelop the mind in hypnotic, vibrant compo- sitions, pulling it through the pulsating paradox of architectural confinement and mythical expanse. Emigrating from totalitarian Romania to a post-capitalist America, Ema creates synaptic roadmaps, simultaneously reaching for and rejecting the formation of a discernible self-identity.
Standing before her immense, meticulous abstractions crisply hand-drawn in gouache, you are guided along infinite paths of internal scrutiny and universal exploration of form. These diametrically op- posed elements at once evoke the artist's uniquely international background and reveal the overwhelming complexity (or even the impossibility) of situating the contemporary American experi- ence within the global landscape.
Ema Harris-Sintamarian has received several honors including the 2013 Eureka Fellowship under the Fleishhacker Foundation in San Francisco, the 2010 Lawren Harris Award from the Federation of Ca- nadian Artists, and the 2010 Silicon Valley Arts Council Artist Fellowship. Her work has been featured in several solo exhibitions, including One for Every Day of the Year (Jack Fischer Gallery, 2009), Save Garden (Rosenfeld Gallery, 2007) and You Should Stop Editing (Jack Fischer Gallery, 2007). Ema received her MFA in Painting from San Jose State University in 2005.
Maximalism : Utopia will open on March 29, 2012 with a reception for the artist on Saturday, March 31 from 4:00pm to 6:00pm. It will extend until May 5. For more information about the artist or for images, please contact the gallery.
FOR IMMEDIATE RELEASE: SOLACE FROM THE WILD SIDE, NEW WORK BY JUAN CARLOS QUINTANA AT JACK FISCHER GALLERY FEBRUARY 16TH – MARCH 24TH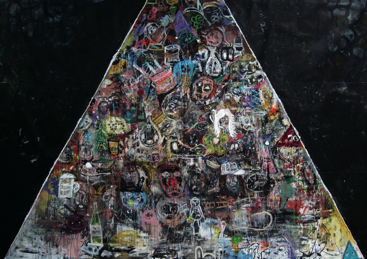 Jack Fischer Gallery is pleased to announce the opening of Solace From The Wild Side, a solo show by Juan Carlos Quintana. Mostly large-scale acrylic paintings, the works in Solace From The Wild Side continue the artist's preoccupation with ideological conundrums. Painted in a tragicomic, irreverent style, Quintana conveys a keen, satirical awareness of the social ills of our time. Narrative and dark in tone, Quintana's paintings depict a strange world where shaggy-haired characters and anthropomorphized objects meet in carnivalesque and claustrophobic settings.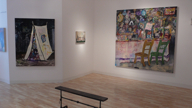 Juan Carlos Quintana is a self-taught artist living and working in Oakland. Primarily a painter, he began his career as ceramic sculptor. He moved to the San Francisco Bay Area from his native Louisiana in the early '90s because of his interest in the Bay Area Funk Movement, and the work of Robert Arneson. He has shown in many Bay Area venues, including John Berggruen Gallery, the San Jose Museum of Art, and the Yerba Buena Center for the Arts. He has also shown internationally in venues in Havana; Manila, Philippines; and recently, Berlin, in the show, Gone Adrift at the Freies Museum. Quintana has been awarded residencies at the Djerassi Resident Program in Woodside, California, and the Oberpfalzer Kunstlerhausin in Schwandorf, Germany. He is part of the collaborative team, Artist Formerly Known As Friends (AFKAF), and was also a part of the collaborative, MIJU, with Michele Muennig.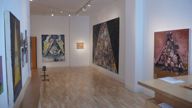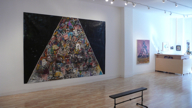 The show will open on Thursday, February 16th, and remain on view until March 24th. An opening reception for the artist will be held on March 1st during First Thursday. For more information on Juan Carlos Quintana or for images, please contact the gallery.
THIS FALL AT JACK FISCHER GALLERY : fishman / waterfall
Photography by Ken Morisawa
Jack Fischer Gallery would like to announce the opening of a show featuring the work of Japanese photographer, Ken Morisawa.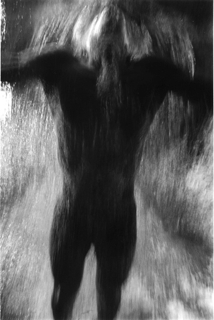 Based out of Tokyo and armed with a Nikon NIKONOS-V, Morisawa captures idiosyncratic moments beneath the surface of water. His subject is often water itself. Seeking to demonstrate the beauty and flamboyance of its movements, Morisawa turns to novel means of capture.
fishman / waterfall will consist of two series produced between 2003 and 2009. In Fishman, Morisawa photographed swimmers passing through the water above him. These images show bodies completely engulfed by water, the former powerfully pushing against the latter, which acquiesces, but not without turbulence.
The second series again sees Morisawa photographing water in a surprising (and some might even say dangerous) manner. In this case he stood beneath a waterfall, and caught images of the surging current as it splintered into millions of droplets and bubbles.
It is obvious from looking at his work that Morisawa is a man who is intimately familiar with the enigma and power of water. Aside from his photography, Morisawa's involvement with this element extends to free diving and fishing.
fishman / waterfall will open on Saturday October 15th with a reception for the artist from 3:00 to 5:00. It will extend until November 19th. For more details on the show or the artist, please refer to the contact information below.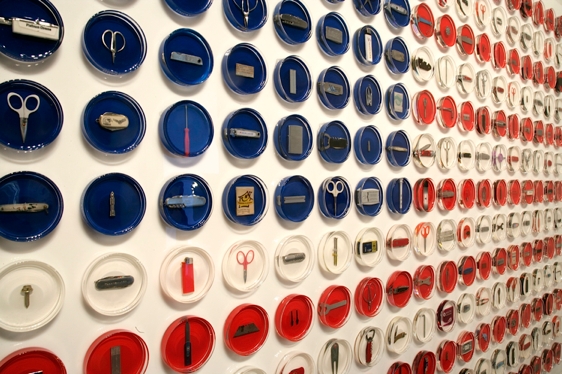 THIS FALL AT THE JACK FISCHER GALLERY :
MICHELE PRED - CONFISCATED
Opening Reception: Saturday September 10, 3 – 5:30pm
Exhibition Dates: September 1- October 8, 2011

Artist Talk: Saturday, September 17, 4pm
This September will mark the passage of ten years since the 9/11 attacks on the World Trade Center and the Pentagon. To say that the incidents of that day and the sequences of ensuing events have changed life as we know it, both at home and abroad, is soberingly well understood. This date will first and foremost be a time of mourning for the more than 3,000 lives that were lost on that day. But it should also serve as an occasion to take stock of the changes that have occurred in American lives and attitudes since that day, and to consider how to proceed into the next decade.
Bay Area artist Michele Pred's work focuses on one of the most ubiquitous and tangible impacts of that day, the heightened security measures and restrictions enforced by the Transportation and Security Administration (TSA) – an organization created in November of 2001, specifically in response to the attacks on September 11th. Although ostensibly enforced for the safety and protection of travelers, and updated frequently to account for changes in strategies for terrorist attacks, many, if not most, experience TSA regulations as inconvenient and invasive.
Pred was employed as a limo driver at the time of 9/11, and was as a result directly privy to some of the anxieties that people felt in approaching air travel, including those who had had items confiscated while passing through security. In 2002, the TSA released a lengthy memorandum listing some 67 items that were no longer to be allowed in air cabins, including most kinds of knives, tools, and weapons (even toy weapons). Although some items were legitimately dangerous (hatchets, pistols, stun guns), others were largely quotidian, and sometimes included objects that could be of personal and sentimental value to travelers.
Over the course of five months in 2002, Pred worked to obtain items confiscated from the San Francisco International Airport, and has continued to receive items since then. From these objects, Pred creates works that from a distance appear in the forms of national symbols of safety, pride, and comfort: hearts, red crosses, maps of the United States. Upon closer inspection, a multitude of confiscated items are revealed (see American Red Cross,, assembled from confiscated pocket knives).
Confiscated will serve as a questioning of the ways in which notions of safety, and by the same token, notions of what constitutes a weapon or a threat have changed since 9/11. Moreover, it will hopefully serve as a larger questioning. Just as security regulations that were initially resisted become the new standard in the way that people fly, what else is being tolerated or accepted in the name of safety?
Michele Pred's artwork has been exhibited in galleries, art fairs and museums in London, Stockholm, New York, Bologna, Miami, Los Angeles, Chicago and San Francisco. Her work is part of the permanent collection at the 21st Century Museum, The Contemporary Museum in Honolulu, the Di Rosa Collection in Napa, CA and is held in numerous corporate and private collections. Her work has been written about and reviewed in The New York Times, The International Herald Tribune, Art News Magazine, ReadyMade Magazine, American Craft Magazine, The Associated Press, PBS and CNN. Pred received her BFA from California College of the Arts, Oakland, CA where she also teaches. www.michelepred.com
For more info and/or images please contact jackfischer@sbcglobal.net.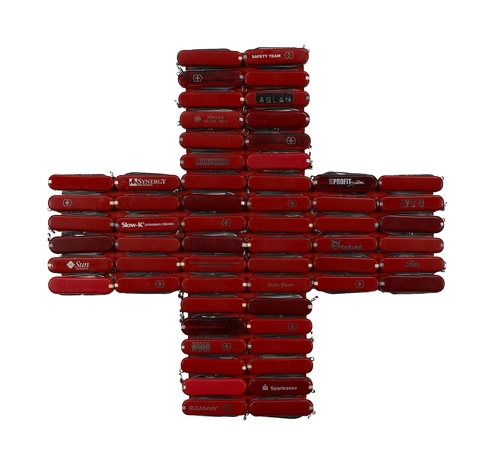 Mapping California Scott Yeskel
July 7, 2011 - August 20, 2011
Jack Fischer Gallery is pleased to announce the opening of a solo show by Los Angeles based painter, Scott Yeskel. A rich marriage of abstraction and the representational, Yeskel's work always springs from the same source: the urban landscape of Southern California and its sprawling outskirts of mountains, freeways and airports.
The sights are familiar to most Californians: taco trucks, Airstream trailers, and old Volvos parked outside Spanish tiled condos with requisite palm trees. In part, these represent the sheer ubiquity of cars and other vehicles in that vast, dry terrain, so often traversed on four wheels. Sometimes Yeskel depicts the difficulties of this peripatetic lifestyle with paintings of traffic jams, car crashes, and a thick, hazy smog that his palette captures faultlessly. But there is also a hint of romanticism there. This is especially true of the abstracts, which possess a real sense of grace and rationality. Their titles betray, however, that they are of the same provenance: Bridge View, Presidio, Desert Highway.
Scott Yeskel possesses a B.F.A from the Academy of Art College in San Francisco. This will be his second solo show at the Jack Fischer Gallery.
The show will open on the 7th of July, with an opening reception for the artist on Saturday the 9th from 3:00 to 5:00. Mapping California will remain on view until August 20th.
RECEPTION FOR THE ARTIST Saturday, July 9, 2011
3:00 P.M. - 5:00 P.M.
Faces - May 14, 2011 - June 25, 2011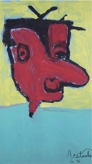 The Jack Fischer Gallery would like to announce the opening of a show held in cooperation with Creative Growth, Creativity Explored, and the National Institute of Art and Disabilities (NIAD); three local nonprofit centers dedicated to the support of developmentally and physically disabled adult artists. In the case of all three centers, the individuals who use their studio and gallery facilities represent a diversity of backgrounds, ages, and styles of expression.

Jack Fischer has a long history of working with these centers and their artists, such as Camille Holvoet, Aurie Ramirez, Rosita Pardo, and Thomas Pringle. This show will be themed around portraiture, and will exhibit responses to the human face in a variety of mediums.
The show will open on May 14th with a reception for the artists at the gallery from 3:00 to 5:00 p.m., and be on display until June 25th.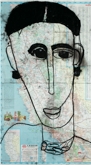 The Jack Fischer gallery is located at 49 Geary Street, suite 418, San Francisco, CA. It is open Tuesdays through Saturdays from 11:00 a.m to 5:30 p.m, as well as by appointment. For more information contact Jack Fischer at 415 522-1178, or at info@jackfischergallery.com
CREATIVE GROWTH (OAKLAND, CA): http://creativegrowth.org/
CREATIVITY EXPLORED (SAN FRANCISCO, CA): http://www.creativityexplored.org/
NIAD (RICHMOND, CA): http://www.niadart.org/